For the last couple of weeks, I've been working during the day, making mental plans of what I'm going to accomplish once I get home. Then I come home at night mentally exhausted and unable to do much of anything that requires active brain function.
Which is why I'm here at home on a Wednesday evening, just now beginning to cook for Thanksgiving tomorrow. It's my first Thanksgiving without Bryan. It feels weird to even type that. My emotions are all over the place. I've always loved this time of year and I still do. I'm excited about tomorrow – getting to watch the parade, watch football, cook, eat, and visit with everyone. I love having everyone together. I miss my buddy, though. It's the silly, selfish things that I miss. I miss making plans. I miss having someone who would run up to the grocery store for me without a single complaint (outside of a silly eyeroll) to pick up something I ran out of or forgot to buy. I miss him being silly in the kitchen, randomly flirting and dancing with me.
At the same time, I'm busy creating a new Thanksgiving. It's a little different and yet the same. I get to cook and feed people. I get to visit. And I get to catch moments of solitude and quiet where I can reflect on the things I no longer have and the things that I DO have that I can be thankful for. I can look forward to next year's Thanksgiving.
I'm not going to lie. This year will be tough. I may or may not cry my eyeballs out. I may need wine donations. I may or may not gracefully make it through. It'll probably more be like skidding through like someone trying to shovel snow on ice, and I never was the most graceful in the world on solid ground carrying anything.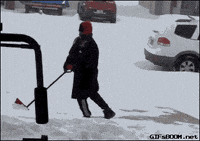 It'll be okay. Happy Thanksgiving, Bryan.❤️